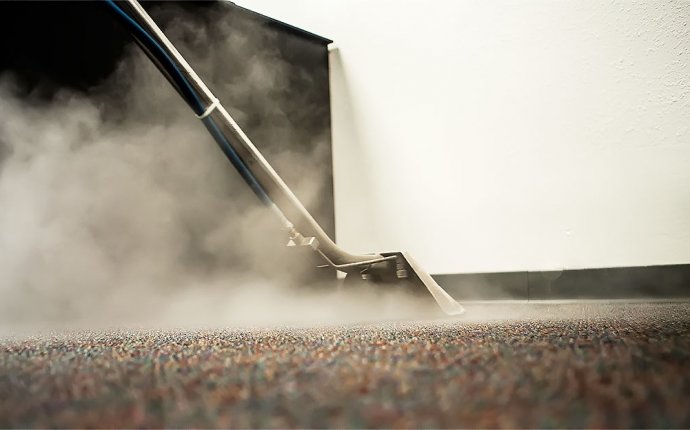 Professional Carpet Cleaning machines reviews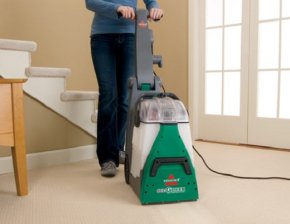 The Bissell Big Green Deep Cleaning Machine 86T3/86T3Q is a professional grade carpet cleaning machine that has created a great deal of excitement since it's introduction in Oct 2010. Through the last few years, it has built up a legion of fans who attest to the high quality cleaning results and solid workmanship of the machine.
We will take a closer look at the details in this review, by looking into the features and benefits of the machine, how it performs, as well as comparisons with other top-rated carpet shampoo machines.
Bissell Big Green Deep Cleaning Machine 86T3/86T3Q Features & Benefits
Cleans Better Than The Leading Rental Carpet Cleaner – According to Bissell's testing, this machine cleans better than the leading rental carpet cleaner machine. This assertion is supported by many user reviews, from users who say that they have gotten better results from the Bissell Big Green Deep Cleaning Machine as compared to the Rug Doctor, or the Hoover SteamVac. There are more details on comparison results further down the page.
Rotating DirtLifter® Powerbrushes – The Bissell Big Green Deep Cleaning machine uses Bissell's patented DirtLifter power brushing technology to ensure that the entrenched grime and dirt on carpets are loosened and lifted out of the carpet fibers. This removes deep down stain particles, debris and other dirt.
Forward & Backward Cleaning with Drying Efficiency – The cleaner will clean on both forward and backward passes. This reduces the time taken to clean. At the same time, it does not compromise on the suction and drying time. Most carpet cleaning machines will clean only in direction, either on the forward or backward stroke.
Adjustable Tank Handle – The adjustable tank handle on the machine allows users to select a suitable height for handling the machine. This ensures that users are comfortable while cleaning. It helps to ensure that the Bissell Big Green Deep Cleaning machine remains easy to maneuver and push around despite it's weight.
10.5″ Cleaning Path – The cleaning path 10.5″ is fairly standard for a home carpet cleaning machine.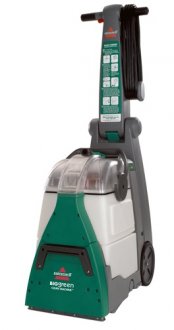 Use Hot Water For Better Cleaning – The machine allows for the use of hot water to steam clean carpets, as hot water can remove dirt better. "Steam carpet cleaning" is actually a misnomer. There is no actual steam involved. You just add hot water to the tank. It's the same for all industry leading carpet machines, even industrial grade ones.
Separate Clean & Dirty Water Tanks – This ensures that filling and emptying tanks is easy to do. It is also a welcome departure from Bissell's single tank system used in their regular grade carpet cleaners. A lot of users have expressed a preference for a two-tank system, saying that it is easier to use and more hygienic.
Large Tank Capacity – The clean water tank takes 1.75 gallons of water. This is a lot bigger compared to 1 gallon for most regular grade cleaners, and therefore saves users time in refilling. It is smaller than the 3 gallon capacity of the Rug Doctor Mighty Pro X3. However, a number of users have commented that it works better than the Rug Doctor in terms of cleaning efficiency. The means that it uses less water to clean up more carpet area. It also avoids the problems users have fitting the Rug Doctor's large tank into the sink for filling up.
Flow Indicator – An easy-to-see indicator to monitor the water tank levels and change them out if necessary. It makes it really quick and easy to check on the tank water levels while cleaning.
9 foot hose & 6″ Stair/ Stain Tool – An extendable hose and handtool attachment for cleaning stairs, upholstery, and stains, or for hard to reach areas.
Long 25 ft Cord Length – Users enjoy the long 25 ft cord length as it means less plugging and unplugging as they do their cleaning.
5-Year Limited Warranty – Longer than the typical 1 or 2 year warranty for regular home carpet cleaners. However, buyers are also paying a lot more, so this is in line with buyer expectations.
green bay news
green pouffe
green enchilada sauce
color green
neon green nails
jolly green giant
lester green
green fruit
green aura
mitch green
mind body green
spring green
green energy stocks
green belt
emerald green prom dress
dark green aesthetic
walmart bowling green ky
green tea extract
Source: carpetcleanermachinesreviews.com