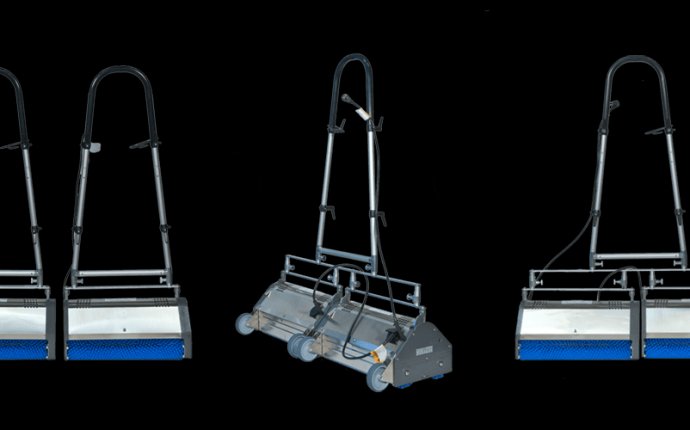 Commercial Dry Carpet Cleaning machines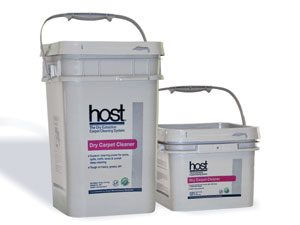 HOST Dry Cleaner deep cleans by dissolving and absorbing the dirt. HOST extractorSPONGES® are a soft, natural product, moistened with a small amount of water and safe, "green" cleaning ingredients. This formula deep cleans carpet, grouted tile, LVT and other textured hard floors very effectively. The chemical formula is safe, nontoxic and biodegradable. 12 pound buckets, 4 per case & 30 pound buckets
Specially formulated extractorSPONGES for special jobs such as asphalt parking lot track-off or for use on solution dyed nylon, polypropylene, SmartStrand® & Triexta® carpets, white or off-white wool, Berber and light-colored carpets. 12 pound buckets, 4 per case
HOST extractorSPONGES in a convenient to use 2.2 pound package. Handy for routine spot removal and small area cleaning. Perfect refill for the HOST Carpet Spot Removal Kit. Keep one or two on board the Liberator for spot cleaning. 12 bags per case
The HOST Liberator ExtractorVac is an all around high performance cleaning system that cleans carpet, hard floors and accomplishes other dry vacuuming chores in one easy to use system.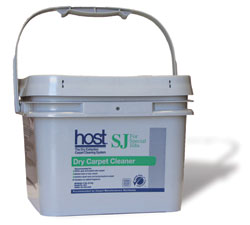 The Liberator does ExtractorVacuuming at speeds of up to 6, 000 square feet per hour to quickly and cost effectively pile lift and extract deeply embedded dry dirt. The caddy packs store onboard vacuum tools and chemical that reduce trips to the janitor's closet.
Comes with caddy packs and vacuum tools shown here. (chemical products shown in picture, not included)
The HOST Freestyle ExtractorVac gives you the same award winning cleaning capabilities as the Liberator, but adds the flexibility with the removable vacuum pod and detachable cleaning brush unit. This is ideal for cleaning smaller areas, carpeted stairs, under desks, tables and work stations.
Cleaning carpets, textured hard floors in restrooms, kitchens and other tight areas are also a breeze. The added flexibility is perfect for residential cleaning, hotel guestrooms, offices and as an additional machine to work with the Liberator for use in more confined areas in commercial facilities.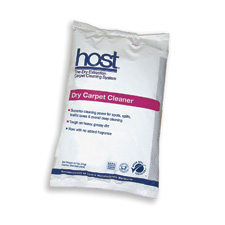 The HOST Reliant is an excellent basic starter machine that is used for small cleaning jobs on carpet, textured hard floors and for cleaning carpeted stairs. Use this machine with your existing vacuum systems.
Dispense HOST extractorSPONGES quickly and easily with the HOST Applicator. The HOST Applicator features three "Smart Settings" for light, medium and heavy soil that accurately controls dispensing to control product use and cost.
The HOST Applicator is highly maneuverable, making it ideal for both commercial and residential use.
Traffic lane booster for extremely soiled carpet. Specially formulated to be used with both HOST extractorSPONGES. One gallon of concentrate makes five gallons of ready-to-use solution. 4 gallons per case
Pre-spray for use with both HOST extractorSPONGES. Use on traffic areas, tough spots and greasy, oily dirt. Comes in a handy 7.5 oz. spray bottle. 12 per case
Great, all-around spotter that can remove most any spot or spill when used with both HOST extractorSPONGES. Special emulsion removes grease, oil and water-based spots. Excellent for gum, tar and hardened food spots. 12 quarts per case, 12 8 oz. bottles per case & 15 gal drum
A must-have for the professional cleaner or in-house staff. Everything needed for cleaning spots and spills quickly. Kit contains: two 2.2 lb. packs of HOST Dry Carpet Cleaner, one 8 oz. bottle of spot remover, one 7 oz. spray bottle of Pre-Clean, a white towel and a HOST Spotting Brush.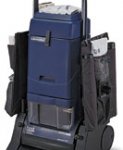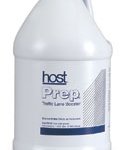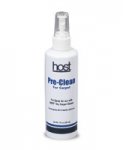 Source: www.hostdry.com