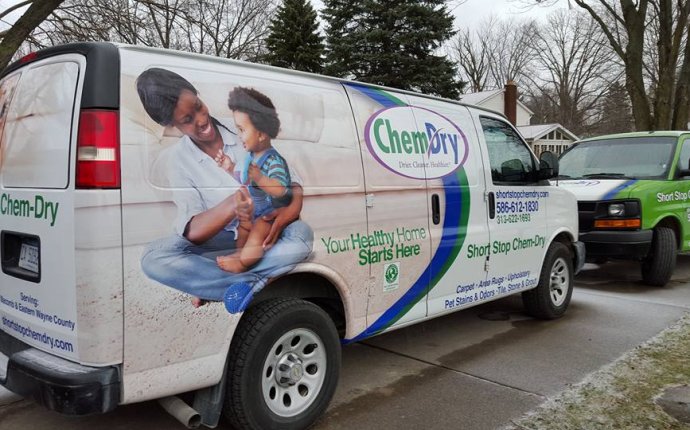 Reviews on Chem Dry Carpet Cleaning
PROS / In addition to using green cleaners, Chem-Dry's cleaning method uses 80 percent less water.
CONS / This company does not clean hardwood floors or air ducts and vents.
VERDICT / With short service windows and carpet drying times, Chem-Dry is one of the most time-efficient services for businesses and homes.
It can be easy to put off cleaning your carpets. You may have to wait for hours to let the technician in your home and even longer for your carpets to dry. This is especially a pain if you have children or pets who may trample wet carpet.
Chem-Dry is a carpet cleaning service with fast dry times and a short service window. You should be able to return from work and school to a clean carpet without any scheduling problems. Chem-Dry's drying times are quick, typically taking about two hours after cleaning. Some cleaning services require a full day of drying to clean your carpets properly.
Part of Chem-Dry's cleaning arsenal is the hot carbonating extraction system. This system uses hot carbonated water to lift soils from your carpet rather than soaps and detergents. Traditional cleaning materials require more rinsing than necessary, contributing to longer drying times. Chem-Dry uses certified green products with lower pH levels, making it safer for kids and pets. In addition to its environmentally friendly materials, the carbonated system requires 80 percent less water.
Prices will vary depending on where you live, but this carpet cleaning service is available in more than 30 states. Other price factors include the carpet weight in your home and the amount of carpet you need clean. However, we estimate Chem-Dry's services cost around $164 for a three-room cleaning. At minimum, you can expect to pay at least $95 for any cleaning job in your home. In our research, we found Chem-Dry charges about 38 cents per square foot in your home. The prices we gathered were for a three-bedroom home in Los Angeles County.
We were quoted a higher-than-average price, but Chem-Dry can assist you and your business with maintenance cleaning, putting your business on a regular cleaning schedule. Rugs and upholstery are also easy targets for Chem-Dry. This is especially useful if you run a clinic or hotel. Any kind of high traffic area will need deep and frequent cleaning.
This carpet cleaning company earned a 95 percent customer service score. One of its best features is the short service window. A common complaint about any service is the mystery that comes with the scheduling window. You may have to wait hours at home for a technician or take a day from work entirely. Chem-Dry generally schedules appointments within two-hour windows, so you'll know when to expect a technician.
Making an appointment or getting a quote from the company is easy. You can get free price quotes through phone, email or by filling out an online form.
Summary
In our research, we found that Chem-Dry is more expensive than most carpet cleaning services. However, this service is time efficient and uses environmentally friendly cleaning methods. You can expect to wait at most two hours for a technician to arrive and two hours for your carpet to dry when you use this service.
Source: www.toptenreviews.com