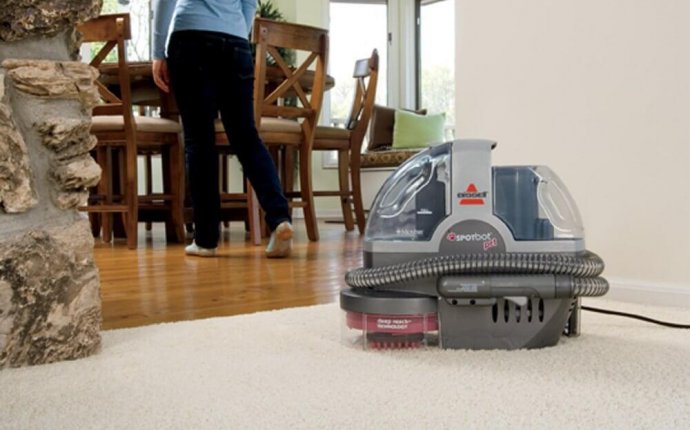 Spot Carpet cleaning machines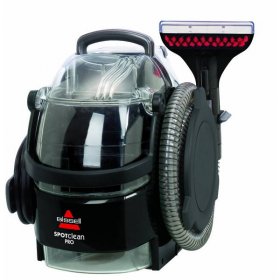 A portable carpet cleaner will quickly tackle spills and pet stains
There are probably few homes that would not benefit from a portable or spot carpet cleaner. Small carpet shampooers can be a lifesaver for wine or other spills of colored liquids, pet accidents or for tracked-in mud. However, they can't handle big jobs or whole house cleaning; for that you need a full sized carpet cleaner or a commercial grade rental carpet cleaner, both of which are discussed elsewhere in this report.
"Small but mighty" is how we've seen dozens of reviewers describe the Bissell SpotClean Pro 3624 (Est. $130). Owners love its portability and versatility for cleaning RV carpeting, car interiors, area rugs, stairs and upholstery. This Bissell cleans with attachments that fit onto a hose, otherwise it works just like a full-sized model. It includes a 3-inch stain tool and a 6-inch stair tool. It also comes with a bottle of a well-reviewed cleaning solution, Bissell 2X Professional Deep Cleaning Formula (Est. $20 for 48 oz.). Other attachments are available for optional purchase, including an assortment of brushes, some powered and some specifically for pet messes.
Like all of the Bissell carpet cleaners in this report, the SpotClean Pro is reported as extremely durable, and Bissell gets very good reviews for customer service. One particular feature that many owners mention positively is how easy it is to thoroughly clean out the tanks when you're done using this machine, a task that can be difficult and unpleasant on full-sized cleaners. The Bissell SpotClean's cord is 22-feet long and the hose is 5-feet, giving it a good reach. At just 13.2 pounds, it's considered highly portable by most reviewers, although a few still complain that it's heavy, especially when filled with water.
In fact, the only complaint we saw about the Bissell SpotClean Pro is that some reviewers wish it had wheels to make it easier to move around. To them we say, never fear, Rug Doctor is here! The Rug Doctor Portable Spot Cleaner (Est. $130) is nearly as well-reviewed for cleaning performance as the Bissell SpotClean, but it also has wheels and a retractable handle to make it easier to transport. Rug Doctor also includes a power brush for tough stains.
The downsides to the Rug Doctor are its shorter cord, only 15 feet, and higher weight of 15 pounds. However, it does have a slightly longer hose at 5.5 feet. The only real complaint we saw about the Rug Doctor is its awkwardly shaped tank. It's rounded on the bottom, so you have to continually hold it when you're filling it at the tap, something that several reviewers say is difficult to do if you have issues with hand or arm strength. The Bissell's tank is square with a flat bottom.
Spot bots will help keep "Spot's" spots under control
Of course we know that not every pet is named Spot, but regardless of what kind of critter you have you'll be able to make use of the Bissell SpotBot Pet Carpet Cleaner 33N8A (Est. $120). It's quick and easy to set up and use. It also has something you won't find on any upright model: Its automated cleaning mode is universally adored by users, and is particularly helpful for those with mobility issues. Just set the SpotBot down, add water and detergent, press the button and walk away. The machine will automatically inject the water and detergent into the carpet, scrub, vacuum the dirty water back out, then turn off when it's done. The entire process takes about 3 minutes. If the stain is still visible, you can run the cycle again, and it's easy to move around if the stain is larger than the 7-inch diameter cleaning area.
The Bissell SpotBot has a couple of settings for different types of stains, one for fresh stains, the other for set-in stains, just in case they've had a chance to dry before you can get to them. The SpotBot is a very popular choice with reviewers for upholstery and area rugs, as well as traditional carpeting. It also converts to a portable carpet cleaner, with a hose and snap-on attachments, making it a highly versatile machine.
Source: www.consumersearch.com