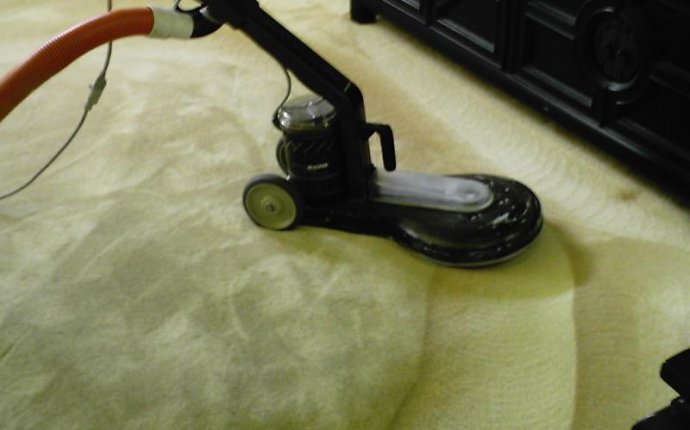 Best Carpet Spot cleaning machines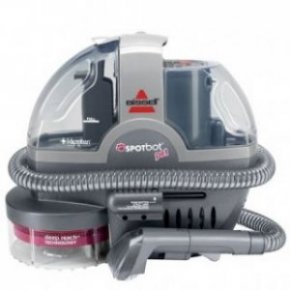 The Rug Doctor brand is well-respected and recognized for offering high quality rental and professional-grade carpet cleaners for home users. Like the classic Rug Doctor carpet cleaner, new (also known as Rug Doctor 93300 Series) is built to high quality workmanship standards and cleans powerfully. It is easy to use right out of the box (no assembly required) and demonstrates effective deep cleaning results. It's the perfect compact and lightweight companion to using the larger Rug Doctor – for cleaning up ongoing spots, stains and spills when it would too much of a hassle to bring out the larger machine or go out to rent out.
For pet stains, auto interiors, embedded dirt and stains from carpets, rugs, stairs, furniture upholstery etc
5.5 foot flexible hose, 4.5 inch cleaning tool
Weighs 15 lbs
10 amps motor
64 oz Clean Water Tank/ 38 oz Dirty Water Tank Size
Product dimensions: H: 15.61 inches x W: 16.03 inches x D: 11 inches
Separate clean and dirty water tanks
8 oz Trial size cleaning formula included
15 feet power cord
Comes with wheels and a retractable handle for easy movement
Although the Rug Doctor Portable Spot Cleaner is a relatively newer model, it has built up a strong following and garnered high consumer satisfaction ratings. It's 10 amps of motor power outclasses the power of Bissell portable cleaners, even the . This is in line with Rug Doctor's claim of having 2X the suction of "other leading" portable cleaners. With its sturdy and excellent cleaning results, Rug Doctor Portable Spot Cleaner is fast establishing itself as one of the new consumer favorites for a portable cleaner.
3. Bissell Spotbot Pet Spot and Stain Deep Cleaner 33N8/ 33N8A
The takes carpet spots and stains cleaning to a whole new level by offering an automated smart cleaning system. Users can set this portable unit over a stain, pick a scrubbing mode, and walk off while this little worker automatically cleans the stain off. It also has a manual cleaning mode, which operates similarly to any portable carpet cleaner – with a hose attachment and scrub brush handtool. This makes the Spotbot portable cleaner useful for cleaning upholstery and auto interiors as well, besides clearing out regular carpet stains or pet messes.
5 foot flexible hose, 3 inch stain tool
Weighs 14 lbs
3 amps motor
32 oz Water Tank Size
Product dimensions: 19 inches x 15 inches x 11 inches
Trial size formulas included: 8oz Pet Stain & Odor Portable Machine Formula & 16 oz OXYgen Boost Portable Machine Formula
16 feet power cord
The unique set-it and step away automated cleaning feature of the Bissell Spotbot Pet Deep Cleaner makes it easy to clear everyday stains without having to labor over a spot. It's the #1 reason why customers purchase this carpet spot cleaner machine. The Spotbot Pet model is currently one of the most frequently purchased portable unit on the market, and draws consistently high user satisfaction ratings.
4. Bissell Little Green Multi-Purpose Portable Carpet Cleaner 1400
The portable carpet cleaner machine is a proven spot remover model that has been around for over a decade. It has lots of fans. Users love how well it cleans and how easy it is to use. The Bissell Little Green is perfect for those times when you just need to pick up the spots and stains quickly. The "Green" in the machine is because it is uses at least 50% recycled materials to build.
Compact spot carpet cleaner deep cleans spills and spots
Sprays and extracts water to dry in one step
3 inch touch stain tool brush attachment
Weighs 12 lbs
48 oz Water Tank Size
Product dimensions: 8.2 x 17.2 x 12.5 inches
15 feet cord length
8 oz Bissell Portable Machine, Spot & Stain cleaner included
1 year limited warranty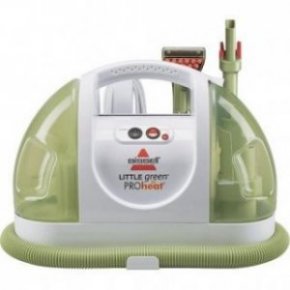 The Bissell Little Green may be an older model, but it cleans extremely well and has stood the test of time. The only complaint, as pointed out by a few users, seems to be that debris can collect in the dirty water tank, and it's hard to clean out. If you are concerned about that, the or in comparison do not have the same complaints against them.
Other than that, the Bissell Little Green is trouble-free for most users, and does clean stains and carpet messes very effectively. It also receives consistent 5 out of 5 star ratings from many.
5. Bissell SpotClean Portable Carpet Cleaner 5207
The is more compact, lighter in weight and less costly than the, or ; yet it packs a lot of cleaning power into it's small frame. With ample power and good engineering, the SpotClean Portable is able to quickly remove stains collected over time from pets, spills and more, with ease. Besides household carpet spot cleaning and dealing with pet messes, this machine is frequently purchased for cleaning auto carpets and upholstery as well.
Highlights include:
Incorporates Heatwave Technology® to keep water temperature constant
Standard 3 inch stain tool attachment
Additional Deep Reach Tool applies carpet solution deep into carpet fiber to clean out old stains
Weighs 9.2 lbs
37 oz Water Tank Size
Product dimensions: 6.5 x 12.0 x 14.5 inches
Trial size detergent included
2 years limited warranty
Smaller than Bissell's older Little Green models but with equally good cleaning effectiveness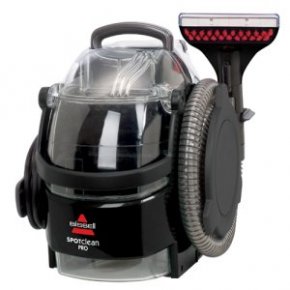 The Bissell SpotClean Portable Carpet Cleaner is recommended for users who like a mid-range but still high quality carpet cleaner that will quickly remove stains. It's also a great choice for users who may need to frequently clean out hard to reach areas or old embedded stains since it comes with two related tool attachments that target these. In addition, the cleaner comes with useful features like HeatWave Technology to keep water temperature constant and removable water tanks for easy cleaning.
It is a newer machine that benefits from an updated design. It's succeeds the Bissell Little Green machine 1400B as the best-selling mid-range portable carpet cleaner. User ratings are very positive.
6. Bissell Little Green ProHeat Compact Multi-Purpose Carpet Cleaner 14259
The is the only compact carpet cleaner that comes with a heating feature. It heats water up to 25 degrees F higher. Cleaning with hot water is always better as heats helps to get the dirt particles out.
The internal heater feature offers extra convenience to users who do not need to wait for tap water to heat up, or be worried that the water cools off before they are done with their cleaning.
Spraying crevice tool
Weighs 13 lbs
Product Dimensions: 8.2 x 17.2 x 12.5 inches
This Little Green ProHeat machine is unique because it has an internal heater. For anyone who likes the assurance of having an internal heating feature added on to a proven portable carpet cleaning machine, this machine makes an ideal choice.
7. Bissell SpotLifter 2X Portable Deep Carpet Cleaner 1719
The is a lightweight cordless handheld cleaner that makes it very easy to lift and clean off fresh stains before they have a chance to set-in. The machine is lightweight and cordless, which means you don't even need to plug it in to get started with the cleaning. It is also small enough to be kept in a convenient space where it can be quickly assessed and put into action.
Cordless portable deep cleaner, fast clean up for pet, coffee, wine and other stains
Convenient for car upholstery, no power cord needed
Has detergent solution sprayer and carpet water extractor mechanism
15 minutes of cleaning for each full charge (enough for most spill/pet incidents)
7 inch cleaning path
Weighs 6.25 lbs
12 oz Water Tank Size
Product dimensions: 7.1 x 17.8 x 10 inches
Trial size Bissell 2X Little Green® Formula for Portables included
This is the best portable carpet cleaning machine for anyone who seeks a fast and easy handheld solution to clean up carpet spills and messes. Compared to each of the above portable cleaners rated, it is less powerful and holds less water capacity. However, it does an admirable job while being handy and cordless. Most users like this machine for its combination of cleaning power and the ease of use it provides. User ratings are high.
Source: carpetcleanermachinesreviews.com