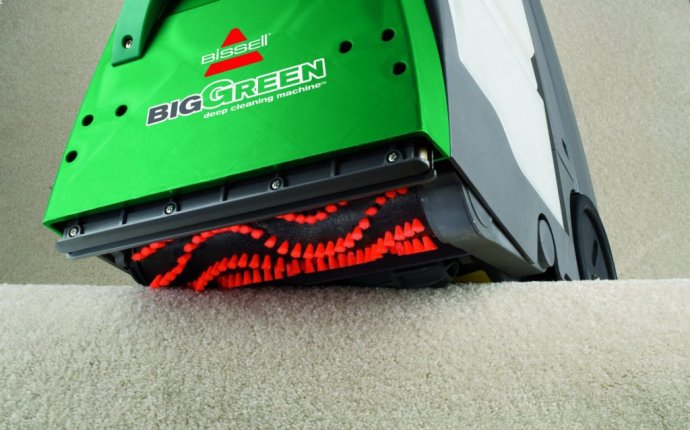 Big Green Carpet cleaning machine
So, you need a top performing carpet cleaner, and instead of continuing to waste money on grocery store rentals, you have decided to invest in your very own carpet cleaner, but which one do you get?
Today we will be comparing the Rug Doctor Mighty Pro X3 Pet Pack and the Bissell Big Green Deep Cleaning Machine Pro.
Why these two carpet cleaners?
They both have been getting great reviews online, they are both from very reputable companies and have been proven to be extremely efficient.
They are both similarly priced. They both also come with a very solid five year warranty, a clear sign that these cleaners have been built to last. Both have excellent cleaning tools and solutions that make cleaning easier.
This is part of what makes them a great choice for pet users that need a commercial grade machine to deep clean old or fresh pet stains.
Tank Capacity
The Rug Doctor has a tank capacity of 3.9 gallons and the Bissell Big Green Pro has a tank capacity of 1.75 gallons. This means that you won't have to empty the tanks of the Rug Doctor as often because they are much larger. This is a time saver when you clean large areas.
1.75 gallons might seem like a small tank capacity when compared to the Rug Doctor, but it is still much larger than most of the other carpet cleaner tanks on the market. However, the Rug Doctor requires you to lug around a lot of water. This makes the Rug Doctor heavier to maneuver during cleaning, and that might not be desirable.
Power Cord
The Rug Doctor has a slightly longer power cord, 28 ft vs the 25 ft of Bissells Big Green. This makes it slightly more handy when cleaning several rooms.
Weight
With tank empty, the Rug Doctor is slightly lighter with a weight of 36 lbs vs 42 lbs of the Big Green. When the tank is filled, the Rug Doctor will actually be heavier.
Cleaning Method
Both carpet cleaners have rotating brushes that lift and remove dirt. They inject hot water and cleaning solution to get carpets clean. The Rug Doctor Pro X3 claims to have a one pass cleaning system that will save time and money because you won't have to clean the same spot over and over again.
As a matter of fact, The Rug Doctor advises against making more than one pass because it will use more water and solution. This will cost extra money over time. If the stain does not come out the first time, it is advised that you let the carpets dry completely and then do one more pass. But wouldn't this be more time consuming in the long run, in addition to more costly?
The Bissell Big Green Deep Cleaning Machine Pro cleans on both the forward and backward pass to reduce your cleaning time. It might require more than one pass to get the stain out when using the Bissell Big Green. But since it cleans in both directions it is quite fast to do several passes.
Source: bestcarpetcleanerreview.net