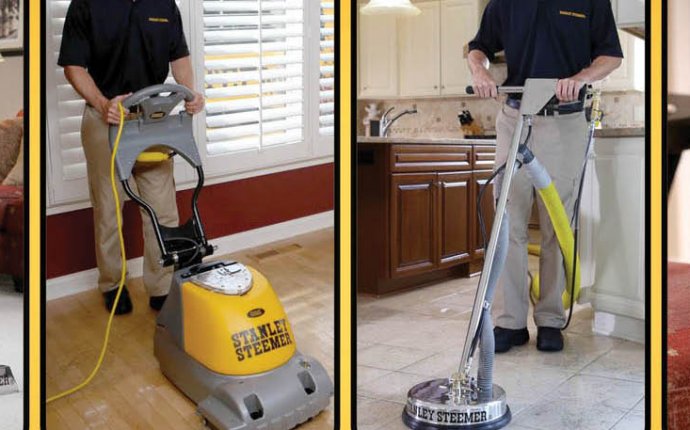 Stanley Steamers Carpet Cleaning
9051 Rochester Ave
Ste G
Rancho Cucamonga, CA 91730
(800) 783-3637
Stanley Steemer came put to clean our tile and grout. Guillermo was very professional and did an excellent job. I was little confused about the on line quote and the scope of work. He took time to explain it in complete detail and made sure that by the time he left I was comfortable and happy. The look of the tile and grout was startling. We had no ideal how much dirt had embedded in the tile/grout. When he was done it was really beautiful. He took the time to tell us how to clean it in the future and even gave a sample of a good cleaning solution.
Had an appointment for open window from 08:00 to 13:00. Worker from Stanley Steamer shows up at 13:30 and was VERY UNPROFESSIONAL. Quoted me over price. The worker spoke with my mate and told him the quote which he had given me. My mate says, the same company did my neighbor's house for less amount w/ a promotion. The worker reply was. you should have gotten that guy's name and number and have him do it. Wow who says that? Very unprofessional. I told him thank you and good bye. Peeved on how people have no customer service when you're calling a company to get service done "AND YOU'RE PAYING FOR IT ". That is unacceptable what never contact this company again and will not refer anyone to them. Unsatisfied Customer
This was the best carpet cleaning service I've ever used. I have used various ones in the past because I had some construction done and there was dust everywhere. I needed a good cleaning done to the house. The representative named Vaddana Leng, was very careful with all my furniture. He placed pads underneath all the furniture, moved what was necessary and left the carpet almost dry. I really appreciated his careful work and the respect that he showed for my home.
Terrible. Guy charged me 208 for a 1400 sq foot home (vacant rental) and then said he "forgot" to charge me for the living room which cost another 25. High priced. Then, he wanted to charge me over $500 to clean tile in kitchen with carpets. The kitchen is tiny!! Carpets looked average. not that much better after cleaning. This guy was alone so it took forever. Usually, I've had 2 in the past and they were much quicker.
Dont use this company!! The $99.00 special they advertise turns into $178.00 with all their hidden fees and charges. My carpet is 7 months old and without even seeing it, they told us over the phone we would need all kinds of additional treatments, including deep cleaning and spot treatments.they know this how??? This company is just a big rip off!
Ryan and Jesssie came in and did a great job on my carpet I am ready for my Birthday Bbq tomorrow! Thanks guys!
Guys were really nice, professional and courteous. They did a great job. Showed up on time, charged the agreed upon amount and carpets look good.
So far, Beverly Maxie (Customer Service Rep in Accounts Receivable) has been a gem. I had so many questions about so many things like logistics, water based solvent MSDS, water source, etc. I was happy with the quote and can't wait to schedule. I really hope the rest of the staff is as courteous, helpful, and respectful as respectful as Beverly. Sincerely, Martha
On June 30, 2016, we had our carpet cleaned by Stanley Steemer (Rancho Cucamonga Office) Benjamin and Peter arrived and with a gracious attitude and friendly demeanor, they both cleaned my carpet and did an excellent job. I appreciate a business that employs happy employees. Thank you Stanley Steemer for your service.
If you use Stanley Steemer's water ligation department make sure to keep all documents, communications and pictures. With the negligence of their crews you will need it to take them to court. We have it all and are in the process of filing a small claims case against in the amount of $1800 which is the additional amount we had to pay another water ligation company to come in after Stanley to clean up their mess and damage. We have the text messages and emails were we questioned them why they did not pull up the floor and they stated they knew their job. They did not the floor was still wet when the contractors went to start the work plus we now had mold. Ever and Edgar tried to lie their way out until we showed them the proof. Miguel Ever's boss stated over 7 weeks ago that Stanley Steemer's was going to reimburse for the second water ligation charge but nothing and now he is ignoring us. So we are on to the next step. Be aware, be warned not a stand up company.
I had Stanley Steemer come out to clean my tile and grout in my kitchen and bathrooms yesterday 7/14/2015. I could not be more happy. The scheduling was easy and availability was convenient. Pedro and Andres arrived on time and got right to work. They were both very pleasant and professional in the care and service they provided. I will definitely use their services in the future for all my tile, carpet and wood floor needs. Thank you.
networking coworking
international holidays 2022
psychedelic society
christmas tree topper
how many people died in 2022 worldwide
disney tops million subscribers worldwide
large outdoor storage box
today's football results worldwide
coworking logo
funny christmas jumper
outdoor cooking
how to increase business sales
coventry building society nuneaton
how communication affects relationships in the work setting
how do i find the rateable value of my business property
stylish crocs
what is a business document
skipton international for intermediaries
Source: www.yelp.com