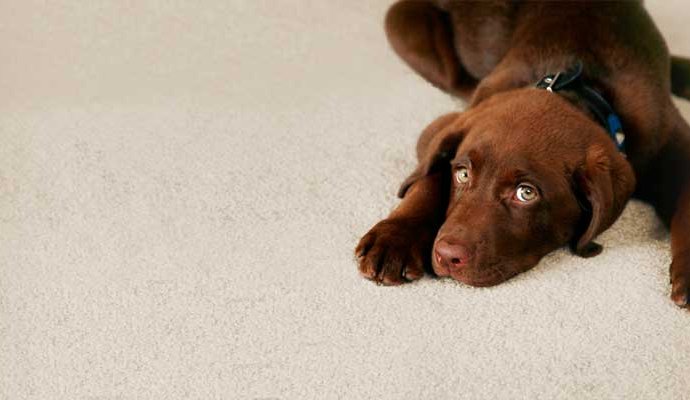 Professional Carpet Cleaning Pet urine
With pets, pee happens, often happens on carpets. But there's no need to panic. There are several methods of removing dog urine—and the distinctive odor it creates—from carpets without using chemicals that may be harmful to you or your pup.
How to Clean Dog Urine
Jothan Hatch, the national training director for Chem-Dry carpet cleaning, has a puppy named Koda who's still perfecting potty training. Sometimes, when he gets over-excited, he "leaks, " says Hatch. Fortunately, Hatch knows a bit about rescuing rugs.
"Your best defense as soon as you see an accident is to blot as much as you can with towels, " he said. "Then, put a few drops of green dish detergent and a little water on the area, place a towel over it and step on it so it absorbs as much as possible."
If you notice a wet spot that may have happened earlier in the day, sprinkle it with baking soda and let it sit overnight, said Annie B. Bond, green living expert and author of Clean and Green. After the patch dries overnight, spray it with distilled white vinegar and don't be concerned if the carpet bubbles a bit while the compounds interact to clean.
Another way to use vinegar and baking soda, a staple in the green cleaning arsenal, is to mix them together in a spray bottle, said green cleaning coach Erinn Morgan, author of Picture Yourself Going Green. She suggests mixing one cup of distilled white vinegar with one cup of water and two heaping tablespoons of baking soda. Shake it up, spray it on the carpet, let it sit for five or six minutes, then gently blot it up with a fresh cloth, she said. The mixture will stay potent for a few months, so you might want to mix up a batch and keep it on hand if you have a puppy.
Leslie Reichert, a self-described "cleaning coach, " editor of Clean Green Living Magazine and author of The Joy of Green Cleaning, prefers to hit dog urine stains with a few squirts of hydrogen peroxide. Spray the stain, let it bubble up (that means it's working) and let it sit for 10 to15 minutes before sopping it up with a rag. "Be sure to spot test first to make sure the hydrogen peroxide doesn't discolor your carpet, " she said.
The leading store-bought products made for removing the stain and smell of pet urine from carpets use the power of enzymes to do the work and are non-toxic for pets. Enzymes are proteins that help kick off natural chemical reactions at the molecular level, and the enzymes in pet carpet care products attach themselves to the molecules that make up the urine and bacteria that feed on it (producing the foul odors) and catalyze their breakdown.
There's no need to rinse or blot the enzymatic cleaner, you simply let it do its work, dissolve and dry. The length of time required depends on what version of cleaner you buy. Some require 24 hours, while serious stains may take up to two weeks to completely dissolve the smell and stain. Sometimes the smell gets worse before it gets better, so don't be discouraged. In the store, look for the version of carpet cleaner that's formulated especially for pet urine removal and is available in liquid or powder formula.
Products that use more traditional methods of cleaning with solvents (to dissolve stains) and surfactants (surface active agents that "wet" the carpet) may not be as effective and can actually deactivate enzymatic cleaners. Keep an eye on the ingredient panel for chlorine, ammonia and sodium lauryl sulfate, as these can be harmful to pets (and people, too). If the product's instructions direct you to keep pets and children away from the product after it has been applied, you might want to think twice about using it in your home.
How to Remove Dog Urine Smell from Carpets
For more stubborn stains and aromas, there are several green enzymatic cleaners you can find to spray on your carpet or, if you have older stains to tackle, consider renting a carpet-cleaning machine from a local store. Rinse the tank out well before use and don't use the chemical-heavy cleanser that's often sold with the rental. Instead, Bond recommends using a natural cleaner or a combination of white vinegar and water.
Several vacuum brands sell smaller versions of wet-vacs for home use that retail between $150 and $200. These handy machines spray, brush and remove stains on their own and sell a version of their concentrated cleaner that's formulated specifically to treat pet stains.
If you're faced with set-in stains or smells you can't get rid of, it may be time to call in a professional, as sometimes spot-removal isn't enough, Hatch said. "Unfortunately, urine doesn't just stay at the top of carpet, it soaks into carpet padding and backing and can even soak into the sub floor, " he said. Spot cleaning can only get the urine at the face fibers of the carpet, and to truly remove the bacteria and the odors they can create, you'll need a professional, he said.
Chem-Dry has technicians who are specially trained to help remove pet urine from carpets and will use UV glasses and black lights to scan your carpet for long-dried stains. Once the technicians identify where the stains are, they'll use machines to treat it with a non-toxic solution the company has been using for 15 years. The solution "comes in contact with the urine molecules and breaks them apart. Left untreated, urine takes up to five years to off-gas on it's own. The oxidizers do this work within hours, not years, " Hatch said. The technicians leave the solution on the carpet to work for 24 hours, after which time the urine, bacteria and any odor will be gone.
"Accidents can happen, " Bond said. "But there's always ways to bring your home—and your carpet— back to a healthy place."
Source: www.petmd.com