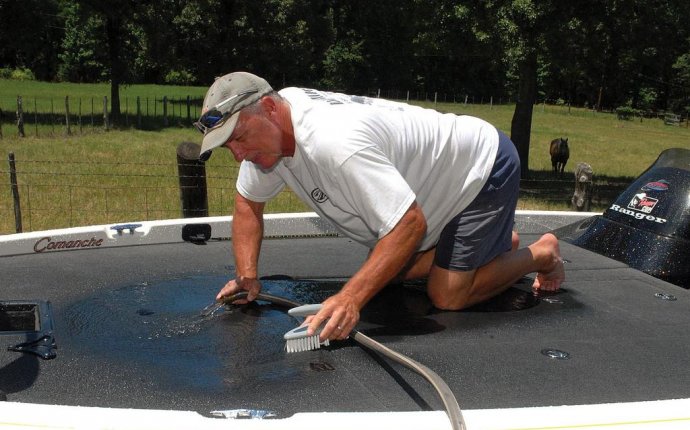 Cleaning Bass boat Carpet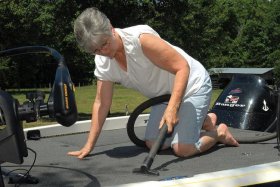 The best way to keep your boat carpet looking good over the long haul is to clean it thoroughly two or three times a year.
(Editor's note: This article originally appeared in the 2013 Winter issue of Bass Fishing magazine. To read more compelling articles from Bass Fishing magazine each month, become an FLW subscriber member.)
If there is one thing I hate worse than seeing a nice bass boat with a filthy finish, it's seeing one with dirty carpet. I like to keep my stuff clean, but not just because it looks good. A bass boat is a huge investment, and the more you can do to protect that investment the better the returns if you ever decide to sell or trade it.
Of course, if you use a boat regularly, some sort of grime will eventually get tracked onto the carpet, no matter how hard you try to prevent it. Timely vacuuming will keep most of the loose stuff picked up, though some of it is sure to find its way deep into the carpet's fibers. Over time, this can cause carpet to develop a soiled look and lose its fluff, particularly in high-traffic areas.
Perhaps the best way to keep your boat carpet looking good over the long haul is to clean it thoroughly two or three times per year – sometimes more. By "thorough, " I'm not talking about a quick rinse under a water hose. I'm talking hard-core cleaning – a down-on-your-knees, break-out-the-elbow-grease scrubbing intended to raise dirt, grit and other junk from their deepest hiding spots.
The following is a quick guide for how to get the job done.
Car wash a no-no
At one time or another we have all pulled our boat into the neighborhood car wash bay, soaped it up, rinsed it off and taken off into the wild blue yonder. Convenient as it is, it's not a good habit to get into. That's the word from Joey Grede, lead man in the service shop at Ranger Boats.
"The owner's manual for our boats says you can do it, but I usually advise people to stay away from car washes when it comes to cleaning their carpet, " Grede says. "The carpet we use is very high quality with plastic fibers. If you get a high-pressure nozzle too close to boat carpet, it could burn it."
High-pressure sprayers can be especially hard on older carpet that has become dry and brittle with time. Place the nozzle too close and it could actually rip a hole through the backing on the carpet or cause the glue to release. Either way, the results aren't pretty.
Easy does it
There are all sorts of steam cleaners and other commercial equipment available that will do a good job of cleaning boat carpet, but Grede prefers to skip the expense and stick with the basics. In his opinion, it's hard to beat a 5-gallon bucket filled with soapy water, a garden hose and a medium bristle scrub brush.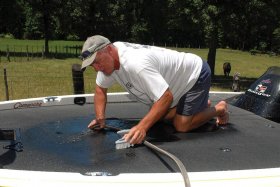 "That's the way we do it here, " he says. "You aren't going to hurt anything with a garden hose and soap. Just be sure and use a mild soap, and make sure to get all of the soap rinsed out."
Another option
I've followed the soapy water regimen before, but I prefer an old-school mixture of white vinegar and water. Vinegar is a very weak form of acetic acid with all sorts of household uses. It works great for breaking down dirt, getting rid of stains and curbing foul odors without damaging your carpet. I've used the mixture to clean my boat carpet multiple times, and it always comes out looking great.
I follow a 10-step process whether I'm using the vinegar mixture or soapy water:
1. Park it: Park the boat on a slight slope, preferably attached to a tow vehicle, with the transom on the downhill side. Make sure the boat is sitting level side-to-side so water will drain through the floor. And don't forget to remove the drain plug.
2. Mix it: If you're using the vinegar/water mixture, pour 2 to 3 pints of white vinegar into a 2-gallon pump-up sprayer and top it off with water. If using soap and water, first mix in a 5-gallon bucket.
3. Vacuum: Use a heavy-duty or commercial vacuum to rid the carpet of any loose dirt before you begin.
4. Soak it down: Beginning at the front of the boat, use a garden hose (spray nozzle removed) to saturate the carpet thoroughly in the area to be cleaned.
5. Brush it out: Use a soft scrub brush to loosen any dirt, then re-saturate with water. It is best to perform this and the following steps on one section of carpet at a time, beginning at the front and working your way back.
6. Apply vinegar/water mix or soap: Use the garden sprayer to apply the mixture, thoroughly saturating a small section. Allow the solution to soak in for several minutes. If using soap, apply with a brush or sponge.
7. Scrub: Scrub the section again to loosen up any remaining dirt or stains.
8. Rinse: Rinse the area thoroughly while continuing to scrub. Repeat the process on the remainder of the front deck, cockpit and rear deck carpeting.
9. Suck it up: Once you are done cleaning, use a heavy-duty vacuum to move all excess moisture, and let the boat sit in the sun for a few hours to dry.
10. Fluff it up: When the carpet dries, use a clean, medium bristle brush and brush the carpet against the grain. This will make the fibers stand erect and look fluffy and new again.
doorstop international
stylish mens pyjamas
stylish sunglasses for men
nike worldwide trainers
stylish nails
the wine society uk
outdoor mini golf near me
outdoor childrens play equipment
streams of joy international
coworking southampton
designing a coworking space
dhl worldwide
sensor light outdoor
coventry building society isa rates
coworking norwich
britannia building society near me
lincoln christmas market
media and communication degree
neighbourhood communication crossword clue
law society solicitor list
slim christmas tree
christmas star
worldwide logistics
stylish lunch bags for work
women's stylish fitness tracker
model of communication
outdoor lighting ideas
skipton building society head office
cluster christmas lights
public communication
stylish simple gold ring design
gilles peterson worldwide
the guernsey literary and potato peel pie society book
outdoor hutch for guinea pigs
stylish womens glasses
coworking desks
stylish man crossword
christmas boxes
small outdoor kitchen ideas
communication process
chiswick coworking space
why is effective communication important in health and social care
bistro set outdoor
tall planters outdoor
nest cam iq outdoor
what is the best coworking space for animators
stylish blazers
france international team
coworking west london
eye gaze communication
forms of communication crossword clue
history of communication
christmas tshirts
stylish establishment crossword
stylish finger mehndi design
explore worldwide
communication and intellectual development 0-19 years
woolwich building society
uk stylish club
coworking space birmingham al
outdoor bars london bridge
underdog international
stylish radiators
outdoor kitchen ideas
mary berry christmas cake
outdoor plant pots uk
nationwide building society online banking
extra large outdoor christmas decorations uk
written and verbal communication skills
chelsea building society login
miss grand international 2022
overcoming barriers to communication
paraverbal communication
law society complaints
the royal society
outdoor lighted christmas decorations
pyramid international
coworking space with gym
2x2 worldwide
stylish swimwear
bandaranaike international airport
happy christmas images
outdoor shoes
body language in communication
kitchens international
stylish watches for men
communication skills trainer
the society imdb
christmas buffet ideas
worldwide music
christmas jumper
stylish tv stands
day pass coworking london
coworking space whitefield
stafford railway building society
handy communication system crossword
arrivals belfast international
dead poets society book
christmas outdoor lights
christmas markets manchester
international women's day 2022 quotes
pubg stylish names
hampshire ornithological society
stylish pens
park christmas
the vegan society
hong kong international airport
stylish sideboard
stylish duvet covers
merry christmas and happy new year
leeds permanent building society
peckham coworking space
christmas tree clipart
communication images
womens christmas jumpers
christmas traditions
outdoor storage shed
cake international 2022
coworking space ec1
different communication methods
outdoor birthday party ideas
christmas door decorations
coworking space hollywood
international women's day 2022 memes
cain international
hampers for christmas
coventry building society login
stylish ergonomic chairs
coworking berlin prenzlauer berg
communication games
signal feature has gone worldwide
fact worldwide
language barriers to communication
worldwide festival 2022
n s international
stylish bike helmets for women
coworking space notting hill
communication framework
baby's first christmas
visual communication definition
coworking space near primrose hill
worldwide parcel services
cotswold outdoor
coworking glasgow
london omnibus traction society
informal communication examples
dunfermline building society
outdoor pool near me
leeds building society
christmas plates
dhl worldwide tracking
royal entomological society
stylish coffee cups
last christmas movie
new international
fidelity worldwide investment
pubg stylish text generator
when will international travel resume uk
outdoor drinks
worldwide jumper
stylish cute baby girl outfits
george formby society
wildlife conservation society
harrogate christmas market
hinckley and rugby building society
outdoor beanbag
worldwide vaccine comparison
perfect society
mammal society
coworking victoria london
vegan society
coworking space nottingham
worldwide travel adapter
building society
international travel restrictions
melton mowbray building society
pretentiously stylish crossword clue
stylish black dresses
new jersey coworking space
stylish lights
coworking office manchester
golf society near me
outdoor bar plans with roof
placebo fans worldwide
worldwide covid vaccination count
Source: www.flwfishing.com