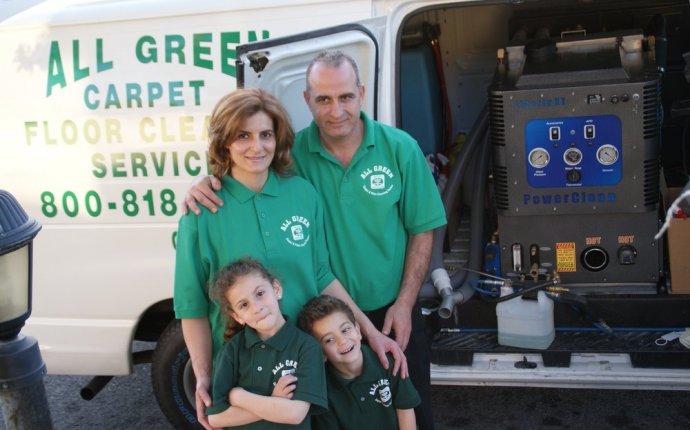 All Green Carpet Cleaning
814 28th Ave
San Francisco, CA 94121
(415) 900-4222
Rey is a master carpet cleaner. He was professional from the time he walked into the house to give us the estimate through the end of the treatment. He suggested and recommended helpful cleaning tips for our carpets and oriental rugs. The tough stain in the kids room is now gone forever. Rey was a joy to have in the house. The particular cat would not leave him alone so that speaks volumes to the type of person he is. We have found our new favorite carpet cleaner.
I hired All Green Carpet Clean in January 2017 to clean two small rooms in an apartment I had been renting. They seemed to have rave reviews on their website and here and I was comforted by their alleged 100% customer satisfaction guarantee (see the bottom of their website). However, things went down hill pretty quickly. The technician arrived in an unmarked white vehicle and was wearing a shirt with a different company name on it. He seemed dazed and confused, calling me by a different name several times. He then informed me that I had to PRE-PAY the $150 for the basic steam cleaning plus special shampooing of a few high trafficked areas. I felt uncomfortable about doing so, but went against my wiser self because I was up against a deadline to move out and have the carpets clean. After paying for the service on my credit card, I waited outside, since it was such a small space (about 700 sq feet for the total apartment). Only afterwards did I realize that I did not notice him bring in a vacuum to vacuum first. In less than 30 minutes, he said he was finished and had already started packing up his equipment. I asked him if he had some booties I could put on so that I could go in and take a look. He said that he did not (he was not wearing any booties either), and quickly left in his van. He did not seem interested in my opinion of his work. Once I was able to inspect the carpets, I noticed a VERY STRONG soapy smell in the apartment, and it was obvious that they did not look clean. In fact, I did not notice much difference at all. And when I put my hand down on the carpet, it was covered in foam, so it seemed to me that it had not been properly rinsed. I called customer service within 2 hours of his leaving and asked for a re-do. It was a Friday evening and I was told that only a manager could approve a re-do and I would have to speak to her the following day. Then it turned into Monday. And ultimately I never spoke to a manager at all. Instead, they sent out the same technician to evaluate his own work and to determine that it had been done properly and it was my fault for not paying more than $150 for the service. They would not re-do, nor refund my money. This meant that my landlord ended up taking out an additional $150 from my security deposit to clean the carpets with his own home steam cleaner. He had no problem cleaning them satisfactorily with this home system, so obviously it was not too much to ask that All Green Carpet Clean get it done with a professional set up. This company feels like a scam all around. I recommend that you avoid hiring them...
I decided to clean my 2 bedroom apt after 2 years without any professional cleaning, it's was difficult to choose cuz my 5 months baby, And then I found this guys online With all those green friendly shampoo I feel safe The service was quick clean and professional The technician rey was kind I'm happy to know that I have new carpet feeding haha I'm definitely recommend to go All green !
I was looking for someone to clean my carpets as soon as possible. However, a friend of mine had this company before to clean his carpets and he well referred me to this company. Well, he was satisfied and was decided to use you again. Because they had done such a great job that I felt confident about going with the same company. When my the guy came over at my property I was happy with the results he had show me and how well his company work. This company really does and Excellent job! Great customer service
Rey came by my apartment to clean my dated carpets. He was an absolute pleasure to work with - he treated my home with great care and consideration, we walked the rooms and he made sure to make note of heavy traffic areas to ensure they were properly cleaned. Rey's attention to detail was incredible, every corner and base board is sparkling, he moved all the furniture to make sure everything was covered, my carpets look AMAZING now! Rey was friendly and thorough, and made sure I was happy with everything before he left. Needless to say, I will definitely be calling him next time I need my carpets cleaned.
Ray did a great job cleaning my area rug. Will definitely be using all green carpet clean in the future. Had got multiple quotes and this was the best deal!
Got my carpets cleaned by this company I must say they did an amazing service. They took care of the odor and stains from my carpets. The carpets smell fresh and fabulous, I'm very impressed with the service I was provided with. I will definitely will be using this company again.
DO NOT USE THIS COMPANY THEY WILL SCREW YOU OVER!! I wish I could give 0 stars, or even better yet negative integers of stars. After All Green kept my rug for a month, returned it dirty and destroyed, and then tried to buy me off for $50 I have given up. I finally found the exact rug I have at Macy's in final clearance for $488 plus tax, took photos and sent them to Al (the owner), and he still only offered me a refund of $50 and an additional $50 to remove my yelp review. I refuse to be bought for such a negligible amount. Instead I will report this business to the BBB and take the loss. I hope this saves people from being ripped off and having their property destroyed. Thanks for your help Al and Rebecca!
Source: www.yelp.com