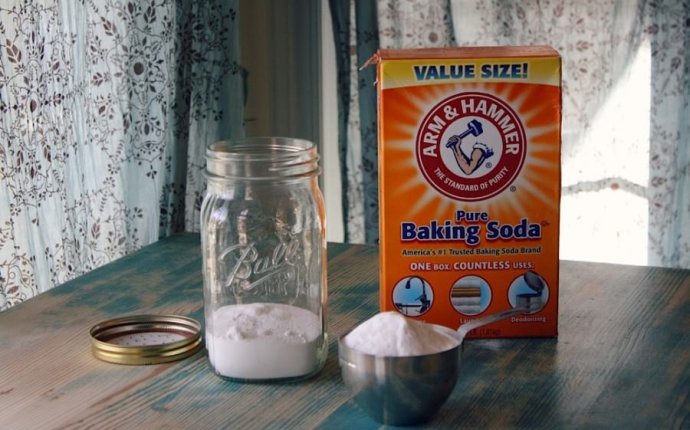 Dry Cleaning solution for Carpet
I often recommend using dry cleaning solvent to remove certain stains from upholstery and carpet, especially. But what is it, and where can you find it, and is it environmentally safe?
What Is Dry Cleaning Fluid Or Solvent?
When I use the term solvent I am referring to liquids, sprays and powders, which do not contain water.
People's expectations when they hear the term "dry cleaning" is to see a "dry" product, and are therefore often suprised to see a liquid product. However, the solvents are only "dry" in the sense that they do not contain water. They can still be in liquid form.
Environmental And Health Concerns With Dry Cleaning Fluids
These solvents are generally petroleum based, and are therefore not great for the environment both because they come from a nonrenewable resource, but also because of some of the chemicals they contain within them.
In addition, there is generally a pretty powerful smell when you use these solvents. Therefore, always work in a well-ventilated area when applying them.
I encourage everyone to use other stain removal methods, when they can, to try to remove stains without having to use these dry cleaning fluids. However, sometimes, to remove a stain they work the most effectively.
Therefore, I suggest everyone have a small bottle of it in their stain removal kit, to use as needed, even though I suggest using it sparingly.
Dry Cleaning Solvent Uses For Stain Removal
The most prevalent uses for these solvents is for cleaning greasy and oily stains from carpet and upholstery, which cannot be washed in a washing machine or thoroughly doused in water.
Further, dry cleaning fluid is often used to try to remove ink stains, which are caused by oil based ink. (There is also water based ink, which you need to remove in a different way.)
Dry cleaning solvent is also used as a last resort for other stains when nothing else seems to get them out.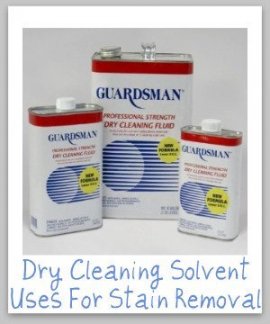 There are many instances throughout the that I have suggested using such a solvent if you really need to get out the stain.
Directions For Use
First, make sure to test the solvent in an inconspicuous location so you can make sure it will not harm the fabric, upholstery or carpet.
Upholstery tags have on them which say if dry cleaning solvent is OK for them to be used, as long as it has the letter "S" on it.
Next, always place a small amount of the solvent on a clean white cloth and blot that onto the stained area.
A little goes quite a long way, and it actually works better in small doses, instead of pouring a lot onto the stain all at once.
If you are using it on clothing or other fabric that can be laundered make sure you rinse out the dry cleaning solvent before you wash it in the washing machine.
If you use it on carpet or upholstery, which are surfaces where you cannot wash the whole item, you still need to rinse out as much of the solvent as possible from the surface after you have removed the stain.
To do this blot with a white cloth that is slightly wet, and wick up and remove as much of the solvent as possible this way.
If you don't remove it completely it can sometimes leave a ring around the treated area.
Where Can I Find This Stain Remover?
I have looked and looked for dry cleaning solvent in my local stores, and I just can't find it anywhere.
The only place I can find it is online. There are lots of brands on the market, but the one I recommend is .
It does have a smell to it, which is typical even though they now say they have a new formula with less fumes.
Sometimes Guardsman is hard to find though, and there are several other brands that will also work.
Here's several you can choose from:
Further, I prefer to use actual dry cleaning solvent for my stain removal needs, but if you are in a pinch and don't have any .
Thanks For Visiting My Website: Grab Your Free Gift!
Hi, I'm Taylor, a busy mom with 3 kids, so I have lots of hands on experience with house cleaning, laundry and my fair share of spots, spills and other messy catastrophes. Thanks for visiting my site.
I update the website all the time with tips, tutorials, cleaning recipes, reviews of products from readers like you, and tests I've done on various cleaners, removers and laundry supplies.
I'd love to give you a gift! When you you will receive a free printable laundry stain removal chart that you can reference as needed.
I hope you enjoy this gift, and stop by again soon!
Related Pages You May Enjoy
You can, to learn more about my criteria, method of research, and any financial compensation I may receive for these recommendations.
code worldwide
skipton building society interest rates
royal horticultural society hall
biggest cause of death worldwide
cognitive communication disorder
khalifa international stadium
coworking space kensington
communication boards
womens christmas pajamas
worldwide manchester
how to start a candle making business
coworking room
stylish living
outdoor ornaments
outdoor dog house
omicron worldwide
stylish blue light glasses
christmas with the kranks
radwell international
argos christmas tree
christmas buffet ideas
christmas scenes
how to start a podcast business
edinburgh international book festival
ichi worldwide
christmas fancy dress
stylish jewellery
how to get a loan for new business
coworking space south london
7ft pre lit christmas tree
Source: www.stain-removal-101.com